Churches for Weddings in Wales
From ancient monasteries nestled in rural areas to grand works of architecture located in the hub of the nation's bustling city centre, some of the most magnificent churches, chapels and cathedrals can be found in Wales. For couples looking to join together in holy matrimony, and specifically, for those dreaming of tying the knot with a traditional religious ceremony, these majestic places of worship are highly sought-after venues. Renowned for their striking features, rich histories, and spiritual significance, many a bride and groom have dreamed of meeting at the altar of a church to say those all-important 'I do's'.
When it comes to planning for the special day, the question of 'where' the wedding will take place is arguably one of the most important and personal decisions to be made. Here's four of our recommendations for beautiful churches in Wales to get married in:
1. Llandaff Cathedral, Cardiff
A site of rich history amidst Wales' cosmopolitan capital, the 900-year-old Llandaff Cathedral in Cardiff proudly stands as one of the finest examples of medieval architecture in the country. Situated in a hollow near the river Taff on what was one of the oldest Christian monastery sites in Britain, Llandaff Cathedral was founded in the 6th-century by St Teilo.
The current building began construction in 1120 before experiencing hundreds of years of gradual destruction throughout the Middle Ages; it wasn't until Llandaff became the target of a German bombing raid in 1941 that the venerable Cathedral underwent a trailblazing post-Second World War restoration.
With remnants of Llandaff's fragmented history echoed in its construction, such as the Celtic crosses located near the chapter-house door, this magnificent cathedral is a grand setting for any wedding. Llandaff's stunning architecture stands today as a sign of times that have come and gone through the years, with many couples choosing this historical and spiritually-rich setting to cement a landmark moment in their own lives together.
From the arresting acoustics of the newly-restored organ to the traditional yet every-captivating stained glass windows, Llandaff's atmospheric appeal is a hidden gem that lies secluded away from the bustling streets of Cardiff just waiting to be discovered. Inspiring and romantic, Llandaff Cathedral is a remarkable venue to say 'I do' in.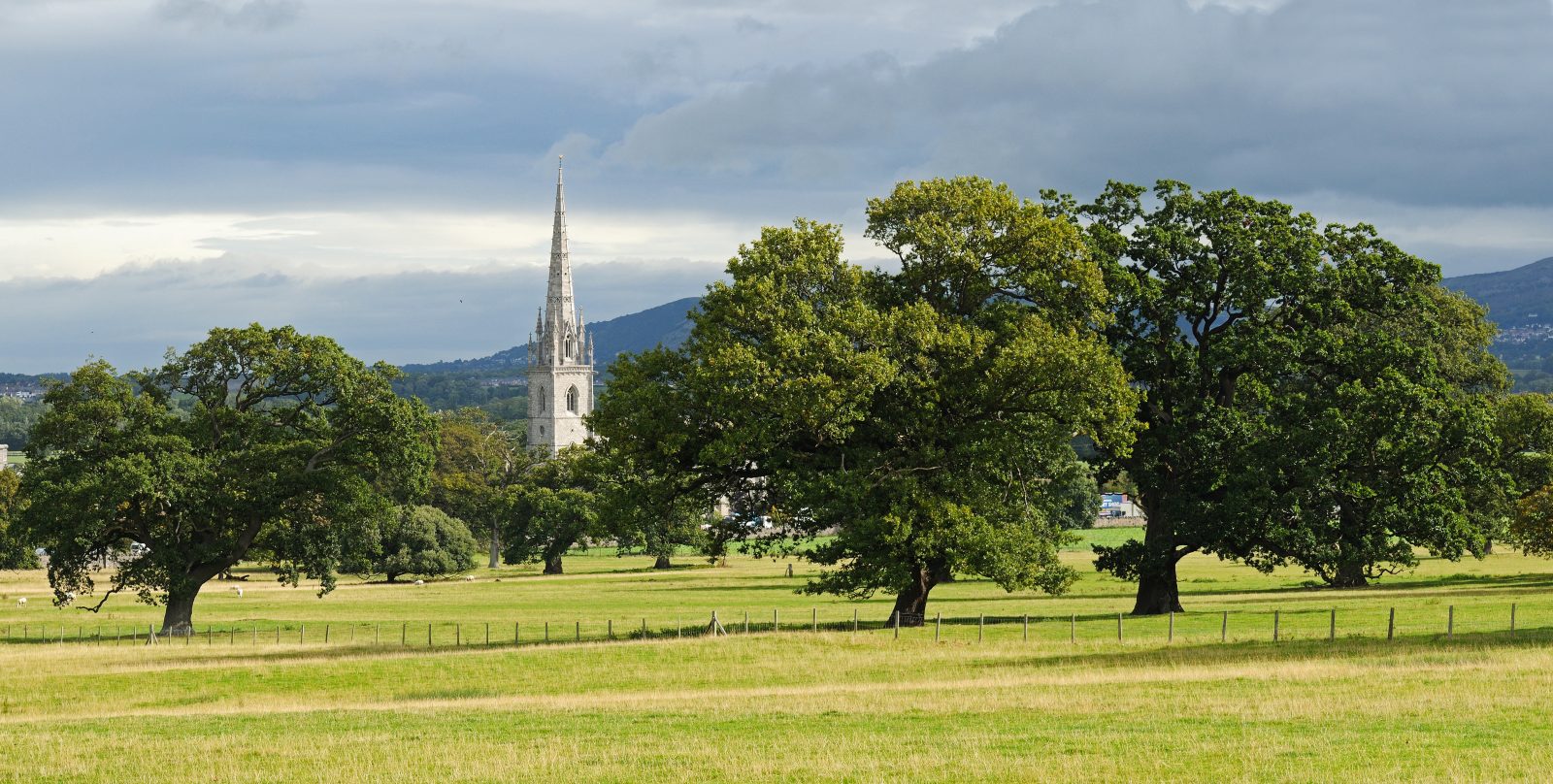 2. The Marble Church, Bodelwyddan
St Margaret, or what is locally referred to as The Marble Church, is an extraordinary building both inside and out. Located just off the A55 trunk road in the village of Bodelwyddan in Denbighshire, the gothic-style parish church is a breathtaking and unique example of Welsh architecture that, as a venue, often seals-the-deal for 'Wedding of the Year' titles.
Boasting an impressive fourteen varieties of marble, the church is characterised by its magnificent Belgian marble pillars, glorious stained glass windows, beautiful sculptures, and poignant graveyard containing World War One memorials of fallen Canadian soldiers. Although predominantly constructed out of limestone, the appearance of the church's exterior resembles that of porcelain, aptly mirroring the white-theme of a wedding day.
If that alone isn't enough to convince couples to tie the knot in this elegant venue, The Marble Church showcases a striking steeple and a richly carved tower that is visible for miles, making for a spectacularly lavish backdrop for those all-important wedding day photographs!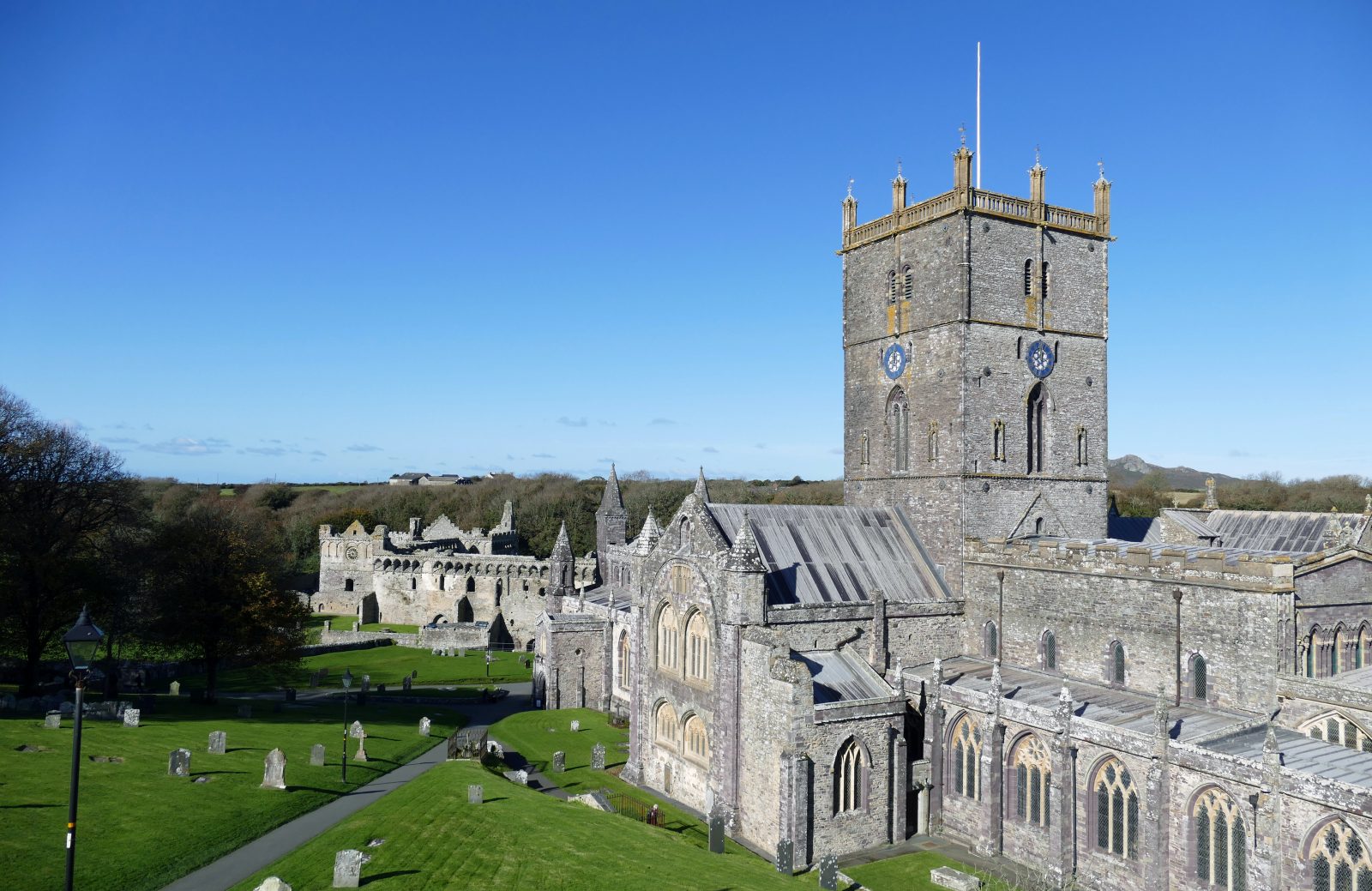 3. St David's Cathedral, Pembrokeshire
St David's in Pembrokeshire might be the smallest city in the UK, but the tiny cathedral city is no stranger to hosting couples' big day. Built in 1181 on the settlement of the 6th-century monastery founded by the patron saint of Wales, St David's purple-stoned Cathedral is generally regarded as one of the great historic shrines of Christendom. A jewel of the nation and a site of monumental religious significance, the ancient Cathedral houses relics of St David whilst serving as a perrenial reminder of Wales' Christian heritage.
Established in some of the country's most peaceful and tranquil cathedral grounds, St David's is an astoundingly beautiful setting for any fairytale wedding. With its captivating painted ceilings, ornate oak roof, and dramatic sloping floors, any couple lucky enough to stand at the altar of St David's Cathedral are bound to be mesmerised by the breathtaking detail of its architecture.
4. Chapel 1877, Cardiff
According to the UK's #1 wedding planning app, Bridebook, "If you're looking for a traditional church wedding venue without committing to a religious ceremony, Chapel 1877 offers the best of both worlds."
One of the most popular wedding venues Cardiff has to offer, Chapel 1877 is an esteemed grade II listed building conveniently located at the heart of the city centre. Offering a unique blend of French-Italian Gothic architecture, the converted chapel retains the originality of its 19th-century features with the added luxuries of an award-winning fine dining restaurant and stylish reception areas.
The all-inclusive wedding venue lets its soon-to-be-married couple choose between the lavish Gallery Restaurant and tasteful Churchill Suite for the ceremony. Taking centre stage overlooking the Gallery's decadent reception area, magnificent period chandeliers create a stunning visual for the exchange of vows whilst the glistening stained glass windows add to the magical atmosphere. For intimate wedding receptions, couples might prefer the cosy grandeur of the Churchill Suite that comes equipped with a private bar and DJ booth for when the celebrations get underway!
Whether you're looking for a place to rest up when viewing wedding venues, or need the perfect accommodation for friends and family ahead of the big day, Welsh Rarebits' leading collection of places to stay in Wales is here to take some of the stress off of your shoulders.
Click here to find your next stay…
Image credit:
Taken by Bill Boaden under the Creative Commons license
2. View of the St Margaret of Antioch's Church from the Bodelwyddan Castle
Taken by Ввласенко under the Creative Commons license