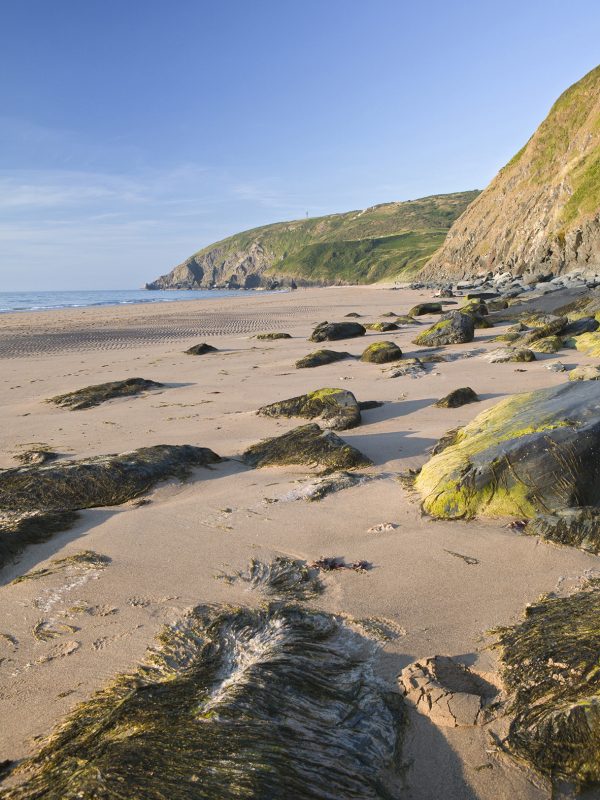 Coast & Country - you have the best of both worlds in this popular part of Mid Wales. You could be dolphin spotting on Cardigan Bay in the morning and hiking in the Cambrian Mountains, also known as 'Wild Wales' by the afternoon.
Ceredigion / Cardigan Bay
Great for...
Ceredigion, situated on the Cardigan Bay coast of Mid Wales offers a fantastic coastline full of beaches, several market towns including Aberystwyth, an inland mountain range the Cambrian Mountains, is home to a popular TV set – Hinterland and is steeped in heritage and history. The Wales Coast Path includes 60 miles of pathways along the Ceredigion coast line joining Snowdonia and Pembrokeshire at either end. Bask in the rugged clifftop views, carefully climb the Iron Age hill forts and dip down to secluded smugglers' coves hidden amongst the rocks, it truly is a memorable walk. Market towns such as Lampeter and Cardigan hold annual food festivals that showcase local artisan produce and they are both well worth a visit. If you are not in town for the food festivals why not head to the markets for a taste of the local fare in Aberaeron, Aberystwyth as well as Cardigan and Lampeter. If you head to the south of the county consider a boat trip from New Quay to see the dolphins. And let's not forget to mention the spectacular beaches you should visit, Aberporth, Mwnt, Tresaith, Llangrannog, Penbryn, Borth, New Quay and many more to choose from.
Our Take...
Sit back and enjoy the view from the Vale of Rheidol Railway from Aberystwyth to Devil's Bridge.