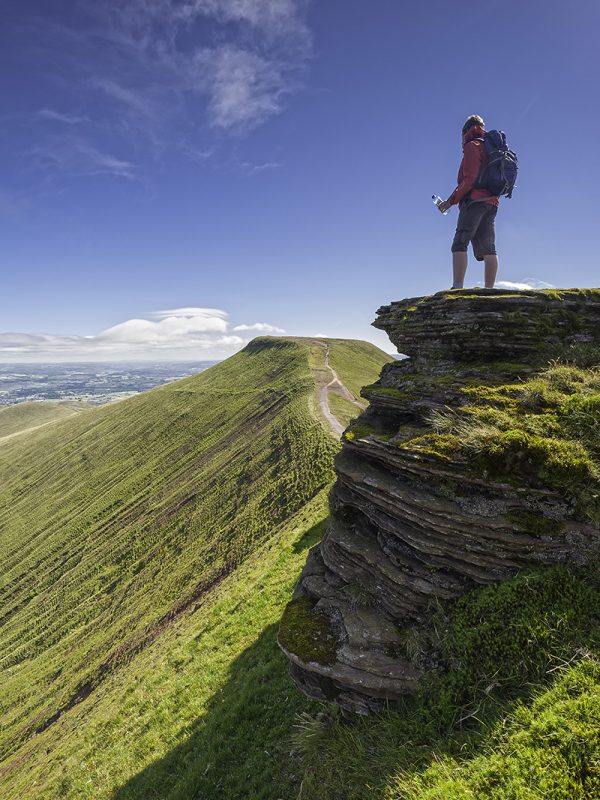 Walking in Wales. It's accessible for all levels of walkers with a wide variety of routes suitable for all ages and abilities.
Mid Wales & Bannau Brycheiniog (Brecon Beacons) National Park
Great for...
Tucked away in the southern part of Mid Wales you will find the Bannau Brycheiniog (Brecon Beacons) National Park, home to dramatic peaks and mountains including the popular 886m high Pen y Fan. A vast national park covering over 500 square miles and is less than an hour's drive from Cardiff making is very accessible for day trips from the capital. But the National Park is much more than a mountain range for walkers and hikers. It has lakes, waterfalls and waterways, nature reserves and gardens as well as castles and caves to explore. The Henrhyd waterfall is the tallest in the area with a 90 foot drop and can be found on the southern part of the National Park. Or perhaps it's wildlife that interests you? You won't be disappointed; there is a range of birds of prey to be seen within the mountain range from Red Kites to Ravens and Peregrine Falcons. The National Park is also renowned for its mountain biking and cycling routes with the popular Taff Trail from Brecon to Cardiff passing through.
Our Take...
The first International Dark-Sky reserve in Wales is situated in Bannau Brycheiniog (Brecon Beacons) National Park and has some of the highest quality dark skies the UK has to offer, making it a must visit destination for stargazers.