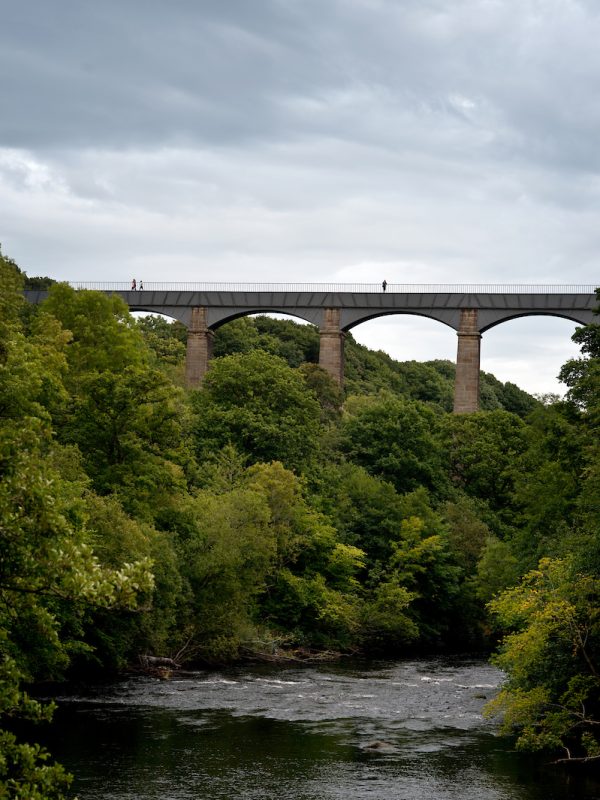 Enjoying the views from the highest navigable aqueduct in the world. Whilst crossing this historical World Heritage Site, take a deep breath and look around at the River Dee, 126 feet below as well as the stunning landscape that envelopes you from every direction. With being that high up – it's certainly not for the faint hearted.
North East Wales
Great for...
We are told that interesting things await us in North East Wales where we share a border with English counties Shropshire and Cheshire. This area is perfect for nature lovers with Offa's Dyke National Trail, a 177-mile range from north to south, passing through the heather clad hills and limestone cliffs making up the Clwydian Range. One of the many popular destinations within this region is the town of Llangollen, famous for hosting an annual International Music Eisteddfod, a colourful gathering of musicians, singers and dancers from all over the world. Also found here is the UNESCO World Heritage Site, Pontcysyllte Aqueduct which is the highest navigable aqueduct in the world with the River Dee 126 feet below. There are also 11 miles of Llangollen Canal that make up the rest of the World Heritage Site. For another glimpse of the heritage of this part of North Wales head to Erddig Hall, a grand stately home on the outskirts of Wrexham and once home to the High Sheriff of Denbighshire and Chirk Castle both properties under the ownership of the National Trust.
Visit Wales say...
Less than 20 minutes from Chester, North East Wales is just a short journey from the North West England and the West Midlands. From the bustling shops and nightlife of Wrexham to the culinary delights of the Mold Food & Drink Festival to the world-famous Llangollen International Eisteddfod – this is 100% Wales on your doorstep!