Holiday Wales with Hot Tub
Looking for the perfect holiday in Wales with a hot tub?
What's better than then relaxing in a hot tub in the heart of the Welsh country without a care in the world? Nothing! That's why we've listed several accommodations with beautiful scenes, lots to do and most importantly a hot tub to soak away the worries of life!
Bodysgallen Hall & Spa
This Welsh Rarebits Hotel is an elegant, luxury country retreat, seamlessly run by experienced hosts, with a welcoming atmosphere with outstanding food and service, and wonderful grounds as well as that well-needed spa treatment and hot tubs.
Lavish amounts of care and attention have been devoted to this distinguished 17th-century house. Skilful, sympathetic restoration, antique furnishings, old paintings and fresh flowers everywhere combine to create an ambience of warmth and well-being.
The extensive grounds and gardens are equally magnificent, with terraced lawns, rose gardens and rare 17th-century knot garden box hedges filled with sweet-scented herbs. With such a rich heritage, it is entirely appropriate that Bodysgallen Hall is now the property of the National Trust by donation, with all profits benefiting the house and the charity.
The Spa offers top quality first-class facilities from a stunningly superb spa and leisure complex containing a 50ft swimming pool, gymnasium, beauty treatment rooms, saunas and more! It also boasts a great location, being very close to some of North Wales's most popular attractions and places such as the Victorian seaside town of Llandudno and the medieval Conwy. A much-celebrated hotel with a reputation as one of Britain's top country house hotels, Bodysgallen Hall & Spa is not one to be missed!
A truly superb choice for a holiday in Wales with a hot tub. Bodysgallen is an accommodation not to miss and promises to have you relaxed and at peace during your stay!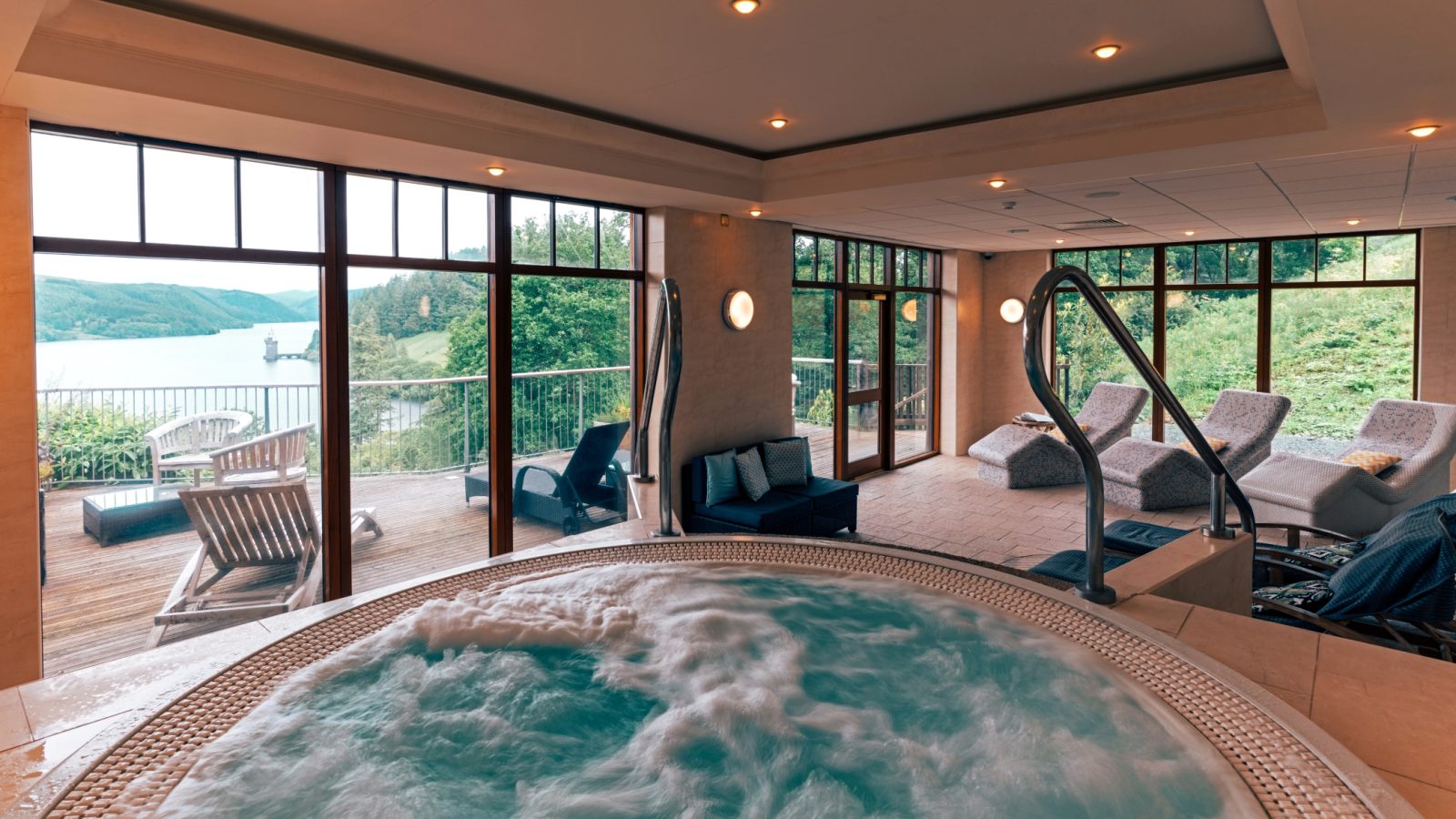 Lake Vyrnwy Hotel & Spa
This hotel epitomises 'location, location, location', boasting one of the most mesmerising views in Britain. Lake Vyrnwy Hotel and Spa stands in splendid isolation on a forested hillside overlooking a dramatic, mountain-ringed lake. Although it's worth staying here for the views alone, there are many other compelling reasons.
The superb Spa and Thermal Suite allows you to experience the elements of 'Water, Fire and Ice' whilst also soaking up the spectacular view. These surroundings also influence the enjoyment of the food, with seasonally changing menus that make the best use of local produce and game from Lake Vyrnwy's own 24,000-acre estate.