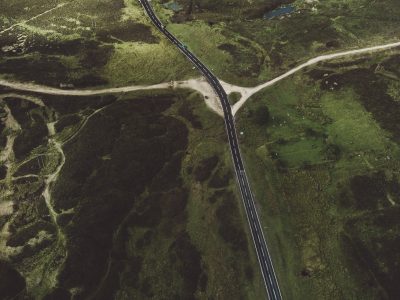 Here, we focus on The Cambrian Way, a north–south journey along the mountainous spine of Wales running for 185 miles/300km from coast to coast. It winds through two National Parks – Eryri (Snowdonia) and the Bannau Brycheiniog (Brecon Beacons) – and the wild Cambrian Mountains. At the northern end there's the Victorian splendour of Llandudno. At the south is cosmopolitan Cardiff, our capital city.
An epic journey
 You'll be travelling along the A470, the iconic highway that in many ways stitches our country together. In the north, The Cambrian Way cuts through the middle of the Eryri (Snowdonia) National Park past the highest mountains in Wales and England. The central section follows the River Wye for much of the way, passing the open spaces of the Pumlumon range, the spectacular Elan Valley 'lake district', and the huge Tywi Forest. To the south, the road climbs into the Bannau Brycheiniog (Brecon Beacons) National Park, a green swathe of mountains, hills, moorland and waterfalls, before cruising through the former industrial Valleys to Cardiff.
An active journey 
Go walking in Eryri– you won't find more exhilarating trails than those in the rugged highlands where the first team that conquered Mount Everest trained. It's a place that has blazed a trail for new activities too, becoming the zipline capital of Britain and home to the world's first inland surfing lagoon.
Go red kite and Dark Skies watching in Mid Wales, while the Bannau Brycheiniog (Brecon Beacons) – like Eryri– is another prime destination for outdoor adventure and activities. And when you get to Cardiff, shopping and sightseeing aren't your only options: go kayaking at Cardiff International White Water.
A revealing journey 
En route, you'll see the many different faces of Wales. Starting in the north, Llandudno is a picture-perfect Victorian seaside resort (they don't make them like this anymore). You'll pass through characterful market towns like Dolgellau, Llanidloes and Brecon along the way (and let's not forget the spa town of Llandrindod Wells, another Victorian masterpiece), before reaching Cardiff with its castle, bayside bars and restaurants.