Characterised by its sandy shoreline, quaint harbour, historic ruins and atmospheric medieval stone wall, Tenby is one of Wales' most loved seaside towns. Whether you're planning a romantic couples retreat or looking for a family-friendly beachside holiday on a slice of Pembrokeshire's stunning coastline, Tenby certainly knows how to offer each and every visitor an memorable time.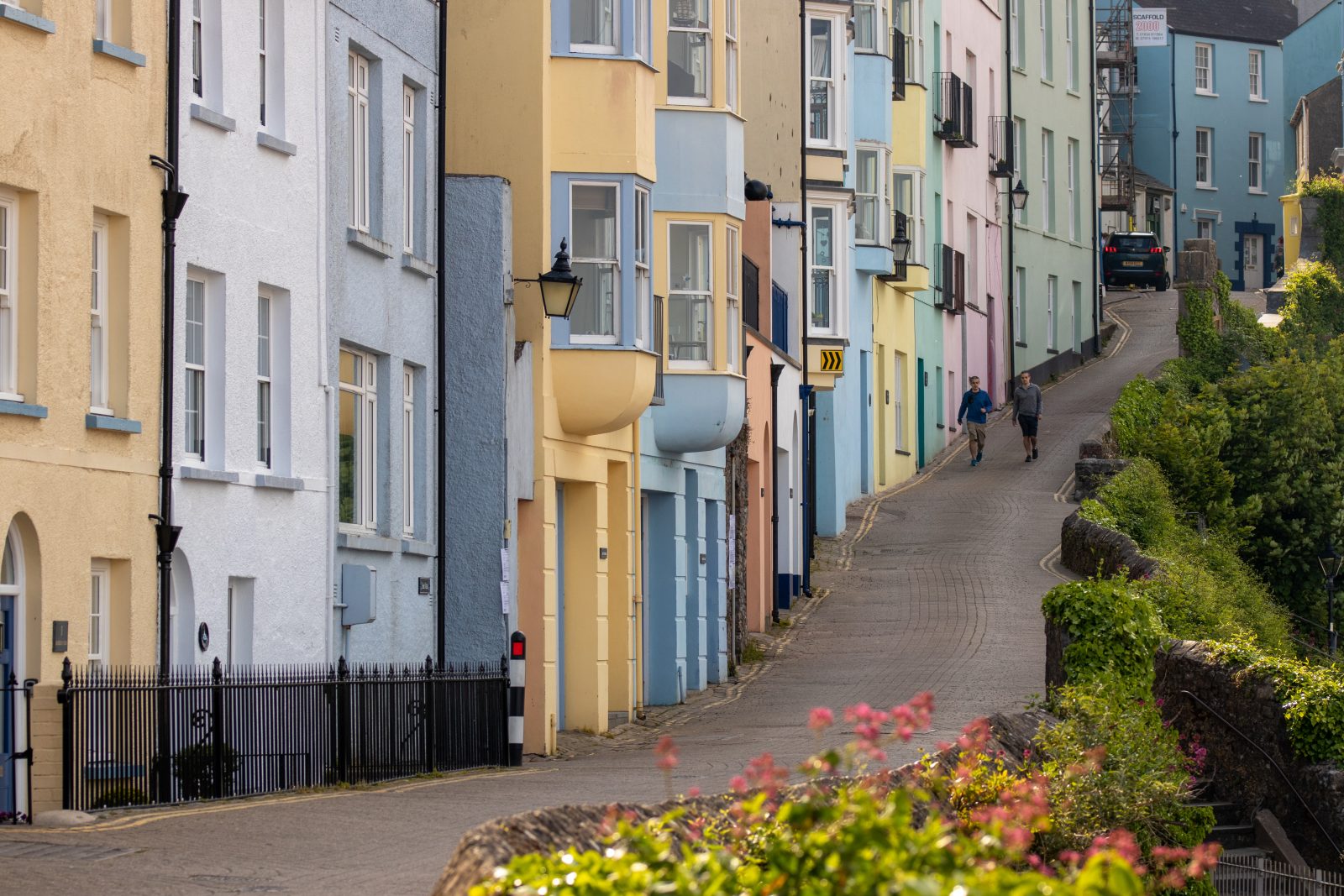 Where is Tenby?
Tenby, or Dinbych-y-pysgod as it is called in Welsh, which translates to 'little fort of fishes', is widely recognised as the largest town in south Pembrokeshire. Occupying a large proportion of Carmarthen Bay's western shore, the buzzing market town lies within the Pembrokeshire Coast National Park in the country of Dyfed.
Whilst Tenby's iconic harbour is nowadays the focal point of postcards and Welsh tourism brochures up and down the UK, it first became a popular seaside resort during the Georgian and Victorian eras. Remnants of its long-standing heritage are still reflected today in the medieval houses, ancient narrow cobbled streets, old town hall, 15th-century Tudor Merchant's House and other impressive architectural structures; all of which are part and parcel of its unique charm.
The warm, atmospheric appeal of Tenby can even be felt in classic writings we've come to know and love in modern culture. Jane Austen is reputed to have visited Tenby, Dylan Thomas famously left his first draft of 'Under Milk Wood' on a bar stool following a couple of drinks, George Eliot resided in Bridge Street for a period of time and Beatrix Potter vacationed at The Croft where she sketched pictures of the pond in the garden that eventually appeared in her most notable work, Peter Rabbit.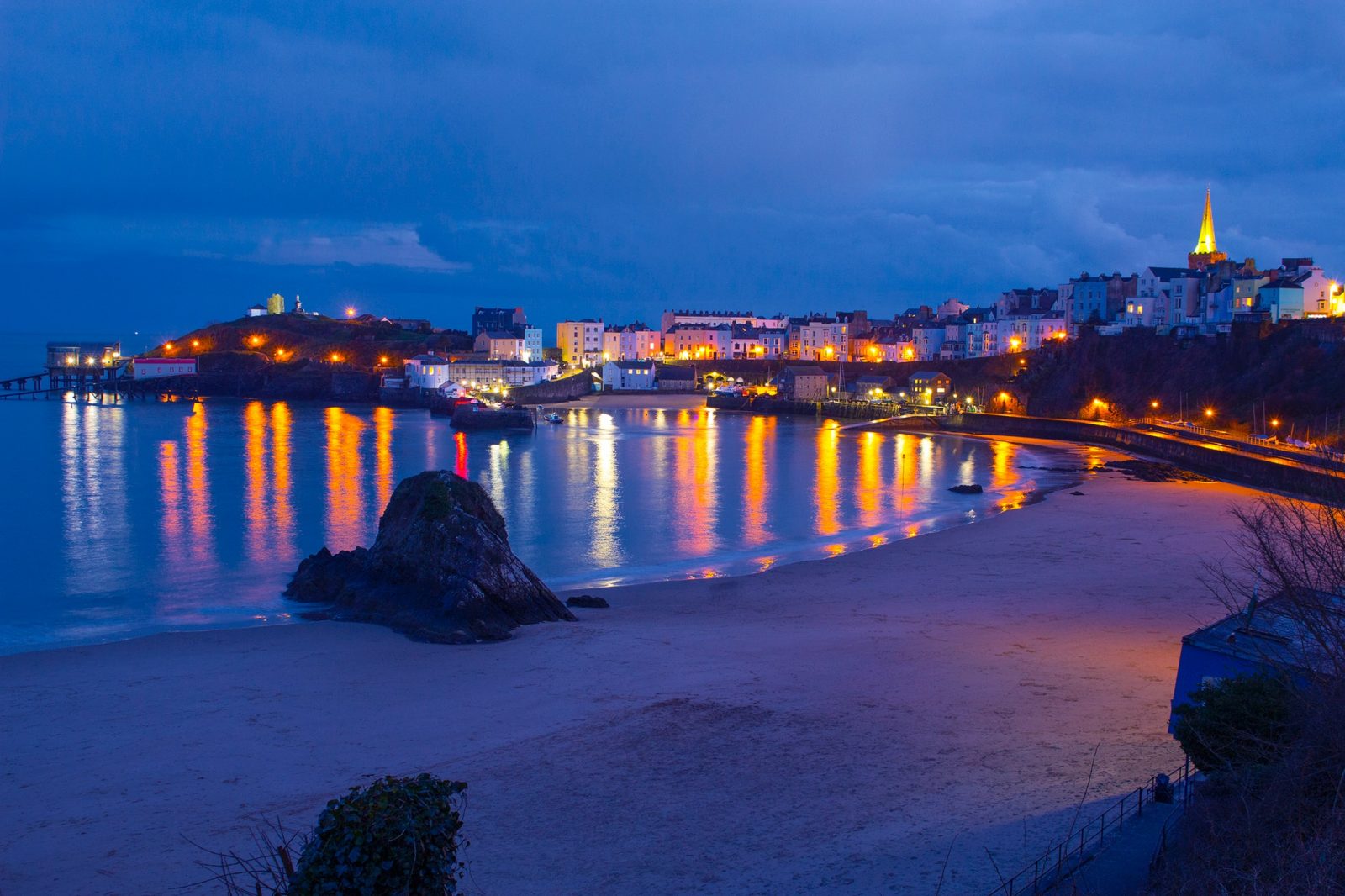 Getting to Tenby
Part of Tenby's allure lies in its remoteness in the West of Wales. A coastal retreat like no other, holidaymakers and vacationers return to Tenby year on year for a break from reality and to become absorbed in the town's idyllic seaside charm for a week or two.
It is fair to say that journey times to this secluded slice of paradise err on the lengthy side if you're arriving from elsewhere in the UK. That being said, Tenby has well-established transport routes with straightforward connections, so whether you're hoping to travel by train, coach, car or even by plane or ferry, getting to Tenby definitely won't be contributing to your pre-holiday stresses!
By Train
Located near the centre of the town, and clearly sign-posted, Tenby train station is within easy walking distance of most areas. If you're planning to arrive by train, you can expect a 5-hour journey from London Paddington Station, usually with just one change at Swansea. Similarly, train times from Birmingham are also around the 5-hour mark, but with two changes at Bristol and Swansea stations. For departure stations further north in the UK, Manchester to Tenby takes nearer to 6 hours, whilst Scotland stations to Tenby will take at least 9 hours.
Direct train routes from Cardiff Central take approximately 2 hours and 45 minutes, and just one and a half hours from Swansea station.
By Car
If you're planning on packing up the car and driving to Tenby, the designated driver for your journey will be pleased to know that the roads surrounding Tenby have significantly improved in recent years! As a popular holiday destination, the nearby roads can get congested, particular in peak Summertime months, but you can expect a 4 hour journey time from London, just under 4 hours from Birmingham, 2 hours from Cardiff and just over 1 hour from Swansea.
From the Midlands and the north of England, you'll want to head south on the M5 and from London, Cardiff or Swansea, take the M4 west to Junction 49 before heading towards Carmarthen on the A48.
By Coach
Tenby's Coach Station can easily be found close to the centre of town next to the Multi-Storey car park. National Express operate regular services from London Victoria Coach Station to Tenby, taking around 6 and a half hours. Birmingham to Tenby is marginally shorter, taking around 5 hours and 30 minutes, whilst coaches running from Manchester are nearer to 8 hours.
Places to Stay Near Tenby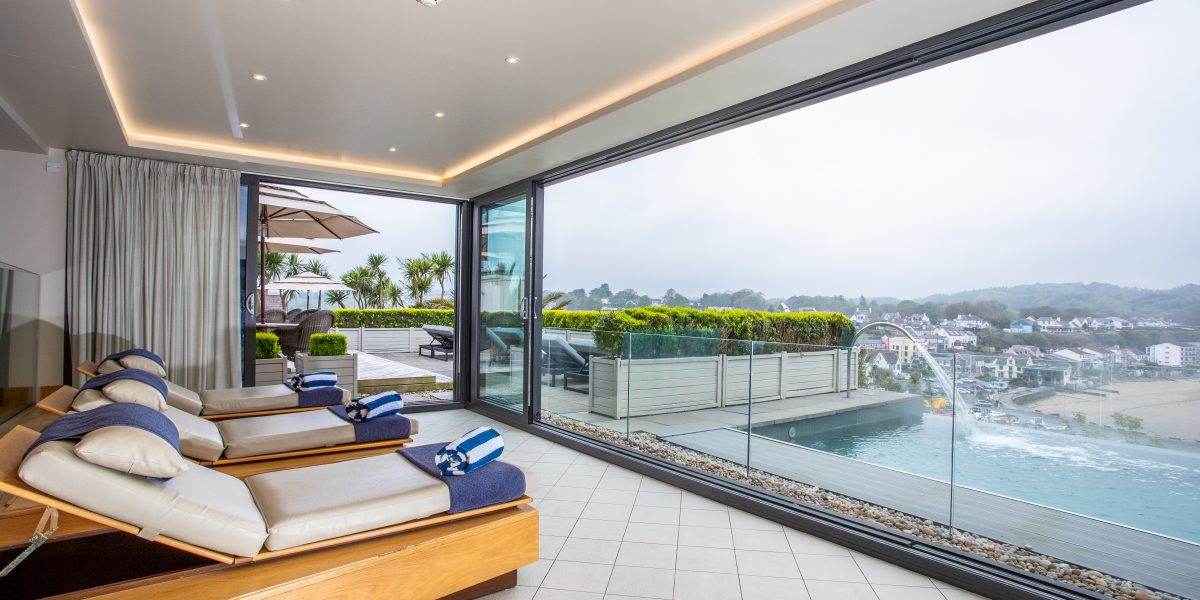 St Brides Spa Hotel, Saundersfoot
Just 10 minutes down the road from Tenby, the seafront St Brides Spa Hotel offers so many 'wow' factors, we're certain it will leave no boxes unticked when planning your Welsh getaway!
Perched on a secluded headland above Saundersfoot harbour and Carmarthen Bay, St Brides is privy to some of the best scenic views in Wales. And, of course, most of the guests enjoy taking in the stunning landscapes from St Brides' star feature: its fabulous marine spa and infinity pool!
So, when you're not out exploring the cobbled streets of Tenby, you can make the most of St Brides' aroma steam, rock sauna and treatment rooms, sensation shower, salt infusion room and ice foundation. Need we say more?